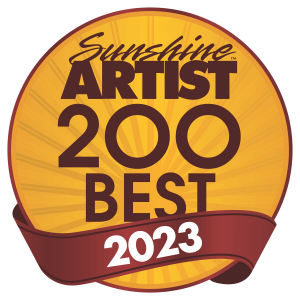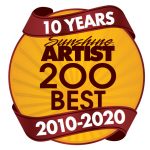 Quail Hollow Events is thrilled that our Woodstock-New Paltz Art & Crafts Fairs were again voted in the top 10 shows nationwide in Sunshine Artist 2023 200 Best Issue & ranked on the 2010-2020 Best Of List. The third annual Handcrafted Octoberfest at Rhinebeck also made the list for the third year in a row! The Woodstock-New Paltz Art & Crafts Fair also won Hudson Valley Magazine's editor's pick for Best of Hudson Valley: Bi-Annual Craft Fair.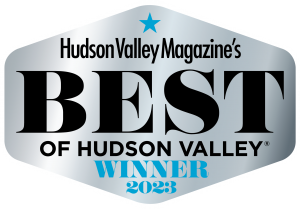 ---
To apply to the Woodstock-New Paltz Art & Crafts Fair and Handcrafted Octoberfest at Rhinebeck, please click the buttons below. To apply to the DCCF Holiday Craft Fair, please go HERE. 
---
---
Exhibitors, read on to access all necessary information for applying (application process, booth fees, advertising, standards and eligibility, etc.). You may also download the 2023 brochure below:
---
Gallery of Visitors 
Quail Hollow Events Festivals 

For information on advertising, spaces and displays, security, complimentary on-site camping, etc., please download the 2023 schedule/brochure (DOWNLOADABLE BROCHURE), or read on.
---
■
ELIGIBILITY AND STANDARDS

All three shows are open to applicants in all art and crafts media. Work must be original in both design and execution. The following categories are not acceptable and applications in these areas will not be considered: objects made from commercially sold kits or plants, dried or plastic flower arrangements, imports of any kind, objects produced from commercially manufactured molds and embellished objects.
All work displayed must be for sale with the artist or craftsperson in attendance. The fairs are designed for exhibitors selling their own work and the presence of agents or vendors in lieu of the artist is not acceptable.
■ SPACES AND DISPLAYS
All spaces are arranged to give exhibitors equal access to the visiting public. Applicants may request a maximum of two spaces, and a space-and-a-half is available for all shows. If accepted, each exhibitor must have his or her own full-size booth and there will be no sharing of spaces (unless specific arrangements have been made).
All display materials must be provided by exhibitors. Exhibitors should create a stand-alone store experience for visitors, and booths should be separated via tent walls, pipe/drape, wall panels, etc. Tables should be covered on all sides, and storage boxes must be out of sight. A full backdrop is recommended. Pipe and drape rentals are available (limited quantities).  
■ APPLY ONLINE
* Fill out application form and upload images HERE. 
A $20 APPLICATION PROCESSING FEE IS REQUIRED WITH EACH APPLICATION
The $20 fee can be paid online via paypal (link available on application form) or a check can be sent to Quail Hollow Events, PO Box 825, Woodstock, NY 12498. There is one application fee for ALL three shows (no need to pay the fee multiple times if applying to more than one event). Late applications may be welcomed in certain media categories, with an increased application fee.

If you have already applied, or plan on doing so, you can pay the application fee by clicking on the "Pay" button below:
Applicants must submit four current color images of your work and one color image of your booth or display. The booth image should be a full frame, head-on shot without anyone present in the booth. If a booth shot is not available, please include a detailed description of your display. If applying in multiple media categories, please submit a separate set of five images for each category; only work in the accepted medium may be eligible for display. In certain cases, mixed media artists may sell and exhibit work in multiple categories, but representations of all work to be sold must be included in original application images. *If you intend to exhibit jewelry in your display, you must submit images of this work.
■ MAKERS OF SPECIALTY FOODS & HEALTHCARE PRODUCTS
This exhibit is limited to producers of foods, beverages and healthcare products for "take home" use. Tasting, sampling, and demonstrations are, of course, encouraged, but the sale of finished food items for immediate consumption is prohibited. EXAMPLE: A producer of salsa and chips may sell jars or cans of salsa for take home use, but may not sell plates of salsa and chips for "on the grounds" eating.
A certificate of insurance, current for show dates, must also be sent with your application. Please scan this and upload it as an image on your application.
■ EXHIBITOR IMAGES
If accepted, Quail Hollow Events may use your imagery on our website, social media, and online or print advertising. Please contact us if this is an issue.
■
ELECTRICITY

Electricity is available in the tents and buildings at all our shows (it is not available for outside booths except in limited spaces at the Rhinebeck show and along the Libertyville Road fence at the New Paltz shows) and is limited to 300 watts per booth space. If you need electricity for your booth, make sure you check it on your application form. There may be a $25.00 service charge in addition to the regular charge to get an electric hookup during set-up or fair hours.