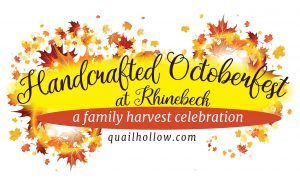 This Fall, on September 30th and October 1st, an artfully reimagined Octoberfest returned to Rhinebeck, NY. This year marked the fourth anniversary of Handcrafted Octoberfest: A Family Harvest Celebration, which offers much more than beer-guzzling and polka-dancing (although both are welcomed!). Produced by Quail Hollow Events, the festival is centered around the concept of handmade, but also infused with harvest energy and Oktoberfest staples. 
This fest was once again included in Sunshine Artist Magazine's 200 Best of 2023 (which compiles the nation's best contemporary craft fairs), and it has something for every generation, taste, and taste bud — from one-of-a-kind goods by the nation's finest makers and artisans to the Hudson Valley's best wine and spirits. There will also be seasonal grub, a beer garden, live musical performances, horse-drawn carriage rides, master pumpkin carving, and a family art and crafts area (with children's programming and creative free play). Says Ola Rubinstein, director of Quail Hollow Events, "Handcrafted Octoberfest champions the craft, training and story behind each object and attraction. Featuring works of art and craft, but also gourmet specialty foods, local wine and spirits, and agricultural marvels, this celebration highlights the idea of small-batch and hand-spun, with lots of harvest fun for all ages on the side."
This event provides visitors the rare opportunity to browse one-of-a-kind handmade goods (created by 100+ juried exhibitors in more than ten media categories!), before hopping on a horse-drawn carriage ride, visiting a petting zoo and dancing to live music.
DATES & TIMES, 2024
Saturday    October 5th   10:00am-6:00pm
Sunday       October 6th   10:00am-5:00pm
GATE PRICING
Adults $13.00 | Seniors $11.00 | Children 6-16 $6 | Children 5 & under FREE
ONLINE PRICING
Adults $10.50 | Seniors $8.50 | Children 6-16 $4.50 | Children 5 & under FREE
*All tickets are weekend/2-day passes; can be used both Saturday & Sunday.
Groups of 30+ : $10 per ticket
To reserve specially priced group tickets, please download and complete
THIS REGISTRATION FORM
Dutchess County Fairgrounds: 6636 U.S. 9, Rhinebeck, NY 12572
FREE PARKING
RAIN OR SHINE